Restorative Dentists in Whitby, Ontario
If you do not feel comfortable with your own smile because of decay or damaged teeth, it is normal to feel limited or self-conscious. Whether it is staining or gaps, colour or any other problem, not having a bright smile can limit you socially and professionally. This could have an impact not only on your self-esteem but more importantly on your overall health. Your oral health is extremely important, and any untreated condition or problem in your mouth could develop into more serious problems, including oral cancer. With the advantage of modern medicine and experience at Gallery Dental, you can make sure that any imperfection is turned into a healthy and bright smile. We can change your whole smile if that is what is needed, giving you a Full Mouth Restoration that addresses your specific needs. We can help you find the best set of treatments and help you understand what to expect.
Using modern techniques and materials, we can repair and replace severely worn down, chipped, cracked, missing, or badly damaged teeth. We can also correct problems with alignments, yellowing and especially discomfort and pain stemming from decay. This is because oral decay can truly have a detrimental effect your ability to chew, breath or speak, making it very hard to feel comfortable in social or professional situations. If you are ready to fully restore your smile, we are here to help in every aspect.
With a combination of cosmetic and restorative dentistry, we can achieve the results you want.
Gallery Dental can offer a full range of cosmetic treatments to get you smiling again. Contact us today to book your consultation in Whitby, Ontario.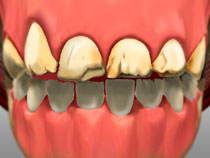 Last Updated On
2021-10-16