Dental Bridges in Whitby, Ontario
A missing tooth can create a host of problems that, if untreated, could deteriorate into decay and further tooth loss. If you have a tooth missing, you may notice that you are having trouble speaking or chewing, or feel a strain when biting that can even become a headache or migraine. This space, furthermore, is prone to infection and irritation. It is also likely you will feel self conscious in social situations, which could affect you not only personally but professionally. A gap in your teeth can lead to all of the above and it increases the chances of infection and decay. The ideal solution is usually a corrective and cosmetic procedure like dental bridges, which will restore your oral health by giving your bite its natural stability and endurance by filling the gap.
Dental bridges literally "bridge" gaps between teeth by filling them with strong, natural-looking artificial teeth. These artificial teeth are caps or dental crowns placed over modern tooth implants that will last a very long time with proper care. The implants are titanium anchors which, once implanted and given time to heal, stimulate growth in the jaw and surrounding gum tissue. Bridges are semi-permanent, so they can only be removed by a dentist, but they are comfortable and proven to strengthen teeth with natural-looking results.
If you think a dental bridge is the solution to your gap we will determine the health of your gum tissue and the strength of the jaw bone during your first visit. If we should find that it is not a viable solution, there are other options we can explore and treatments to encourage growth. Once we have made sure the implant will lend enough support and stimulate growth, we will move ahead with the implant. Your artificial tooth will be made to match the natural color of your teeth, and once placed onto the anchor the doctor will make sure it is a perfect fit.



Contact Dr. Daniel Pesin at Gallery Dental Centre in Whitby at info@gallerydentalcentre.ca to learn more about how a bridge would benefit you today.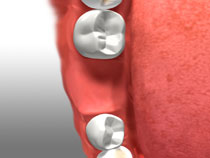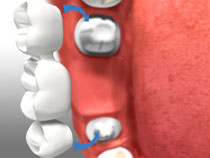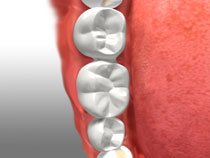 Last Updated On
2021-10-16