Tooth Coloured Bonded Fillings in Whitby, Ontario
Cosmetic dentistry has come a long way in a very short time. It was not so long ago that cavities, for example, could only be treated with unsightly metal fillings. Tooth extractions were more common, having less options available. Metal fillings did not have a particularly long life-span either, were often unsightly, could not be placed with great accuracy and sometimes would contain some amount of mercury. There is no longer any need for metal-based materials in cosmetic and restorative dentistry, however. Restorations, like most of the procedures meant to restore your smile, can now rely on modern materials like resin composites or porcelain that match exactly the color of your teeth. They will give you a much more natural look, and they will last much longer with proper care. They can also be placed with great accuracy.
These modern, tooth-colored bonded fillings are made of a highly durable and malleable resin that can be bonded to your teeth for a very long-lasting hold. Composite resin is now commonly used for a stronger, more natural-looking effect to restorations and cosmetic work, so you should certainly expect it from your trusted family dentist.
 
Bonded fillings are virtually undetectable as they can be made to the exact shade of your teeth and then molded exactly like a natural tooth. They will lend more stability to to the tooth, halt any misalignment and restore the chewing surface. This will allow you to chew, breath and speak with greater ease. Best of all, they require only a single appointment to apply. Make sure to ask about tooth-colored composites if you are thinking about or need some cosmetic work, we are here to help you get back your amazing smile!
Contact

Dr. Daniel Pesin at Gallery Dental Centre in Whitby at

info@gallerydentalcentre.ca

to learn more.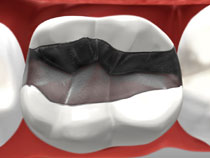 Last Updated On
2021-10-16